PokéZine 4
is a print zine containing Pokémon-inspired trading cards. It features artwork by 36 illustrators and graphic designers. Each artist illustrated their take on a chosen card from the Base Set of the Pokémon Trading Card Game.
PokéZines 1-3
were standard print zines each themed around a Pokémon type (Ghost, Ice & Glitch respectively). Combined, these feature contributions from over 100 artists worldwide.
Following the previous PokéZines, PZ4 offers a twist—it's a zine with cards inside. It aims to give viewers a nostalgic ping that transports them back to the playground in 1999, trading Pokémon cards with their classmates. PZ4 hopes to ignite memories of lugging your favorite, most prized cards around in a plastic binder. Back then, some video game magazines came with promo cards soft-glued inside, so inspiration was drawn from that as well.
The back of each card features a unique emblem. These are inspired by all manner of Pokémon lore—gym badges from the games, decals from other TCG sets, design queues from misc. Pokémon & even a sequence in the anime where our hero Ash dreamt up what his future badges could look like.
40 pgs
8.5" x 5.5"

Designer: Jordan Rosenberg
Concept: Jordan Rosenberg &
Jonathan Visconti
Photos: Kermit Mercado
2019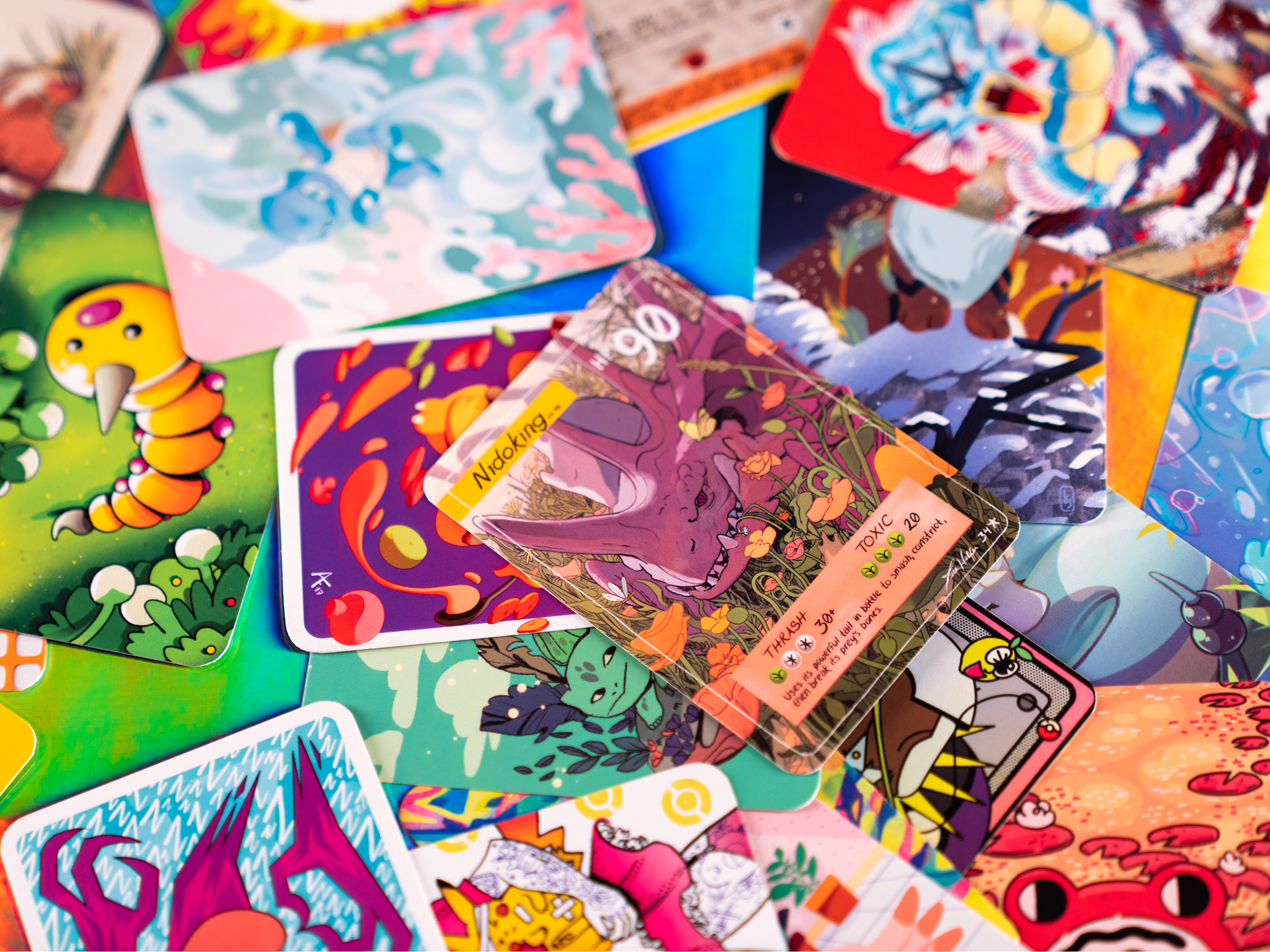 Afonso Ferreira
Ana Benaroya
Andrew Noël
Anna Rose
Arkotype
Byron B
Camryn Adjodha
Chris Passabet
Daniel Guerrero Fernández
Grace Danico
Iain Burke
Ian Andersen
Jackie Ferrentino
Jake Lawrence

Jenn Liv
Jenny Zych
Jestenia Southerland
Jordan Rosenberg
KC Green
Kelsey Wroten
Kevin Jay Stanton

Lauren Sassen
Leigh Davis
Lottie Pencheon
Mayuiki
Megan Brennan
Miranda Harmon
mushbuh

Nathan Mendel
Opal Pence
Puré
Rachel Simone Weil
Tara Helfer
Thymine
Walter P
Zipeng Zhu